Belly Burner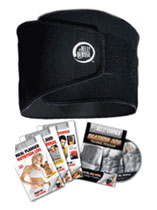 Get rid of your belly fat and have amazing abs with the Belly Burner. You'll get the firmer, tighter, and sexier abs you've always wanted.
The Belly Burner was invented by celebrity trainer Bobby Waldron and use to be only available to his personal clients.
Now it is available to the public so anyone can burn their belly fat, tighten the midsection, and get rid of love handles.
The Belly Burner works by safely and naturally generating heat which increases your metabolic rate and speeds up the calorie burning process. This means more weight loss and more effective workouts.
You'll burn fat faster and give your midsection a more intense workout when you are walking, biking, jogging, or doing any other form of exercise.
Get the Flash Player to see this player.
The Belly Burner Package includes the Belly Burner Belt, Training DVD, Calorie Counter, Meal Planner & Nutrition Guide, and Exercise & Food Journal.
Right now there is even a special 30-day trial offer where you get to try the Belly Burner system by just paying $7.95 for shipping and handling.
If you decide to keep the Belly Burner after 30 days, it is only $39.95. Try the Belly Burner today since the only thing you have to lose is fat and inches.
Update: This offer has expired