Ab Circle Pro V2.0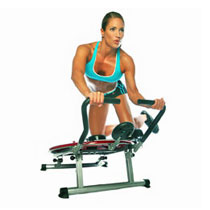 The Ab Circle Pro V2.0 is the treadmill for your abs that lets you lose those love handles nobody loves and get your body into shape.
The unique patented Friction Free Track of the Ab Circle Pro will get you off the floor for a more effective workout. The three levels of resistance makes it perfect for any fitness level, whether you are a rookie or pro.
The Ab Circle Pro is designed to work out your  upper, middle, and lower abs all at once with its circular motion workout to save you tove.
This allows you to lose the love handles and get the sexy abs you've always wanted in as little as 3 minutes a day. Not only can the Ab Circle Pro help you lose your love handles, the workouts can also slim down the buns, hips and thighs too.
The Ab Circle Pro is made with gym quality steel that is built to last. Plus it is also designed for convenient storage. You can easily fold it up and place it under the bed or in the closet to save space.
New and improved features now includes an upgraded wheel set, larger more comfortable knee pads, improved easy-glide pivot points, and easier rolling with a friction free track. 
Get the Flash Player to see this player.
The complete Ab Circle Pro system comes with the Ab Circle Pro unit, a reduced-calorie diet plan,the Slim Down DVD and 30-minute Fat Blasting DVD. It sells for $149.75 plus shipping and hanlding.
Currently the company is offering a 30 day free trial of Ab Circle. You just have to pay $14.95 plus the shipping and handling cost to try in your home for 30 days first, risk free.