LipoBind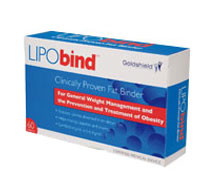 LipoBind is the most popular and best selling fat binder in the United Kingdom. It is clinically proven to remove up to 27% fat from your daily diet.
By reducing your intake of food, you are reducing the amount of calories you consume. This makes it easier to shed pounds and lose weight quicker.
With LipoBind you'll eat less fat during meals and accelerate your weight loss. Plus it even helps lower your cholesterol.
LipoBind is a natural supplement that is made with a special dried cactus extract. This extract helps reduce the amount of fat the body absorbs from the food you eat.
By taking LipoBind after eating you'll be removing up to 27% of undigested fats from a standard meal. It works by attaching to the fat you've eaten to create a fat-fibre complex that is then passed out of the body naturally and easily.
Get the Flash Player to see this player.
Normally a pack of LipoBind with 60 tablets would retail for $41.24. But right now this current offer you can save 50% and can get LipoBind for only $20.58 plus shipping and handling.
In addition, you'll also receive free bonus gifts with your order. You'll get a bottle of Adora Resveratrol and an Aerobic Exercise DVD.