Twist N Clip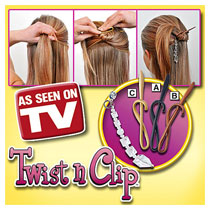 Are you having trouble finding a hair clip that will hold you hair securely in place all day long and is comfortable at the same time? The Twist N Clip hair clip is designed to address that problem.
It is a new styling tool that will keep your hair up and in place all day long. The Twist N Clip can adjust to work with different hair thickness and hair types.
Plus it is comfortable to have on. With claw clips your head hurts when you lean back against it but the Twist N Clip won't hurt your scalp.
To use the Twist N Clip you first collect a medium-height ponytail and twist it 2 to 4 turn straight upwards.  Then open the Twist N Clip and slide it underneath. Lock it like a safety clip and your done.
The Twist N Clip while neatly keep your style in place and won't damage your hair like other clips. It works great with all different types of hair styles. Plus you can use the Twist N Clip while swimming, jogging, or working out at the gym.
The Twist N Clip is easy to conceal and is available in 3 different colors to blend in your own hair color. You can choose from either Black, Bronze or Blonde.
Get the Flash Player to see this player.
A set of 3 Twist N Clips in a single color of your choice sells for $10 plus shipping and handling. It also comes with a free Crystal Glass Tattle Tail, a hair decoration that attaches to the Twist N Clip.
Plus currently there's a buy 1 get 1 free that is available. You'll get an additional set of 3 Twist N Clips in the same color and a Black Faceted Crystal Tattle Tail for free. Just pay the additional shipping and handling for the free set.