Scrub King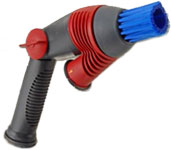 The Scrub King is the most revolutionary cleaning tool ever developed. It makes all your cleaning job a breeze and you can now finish in just half the time.
Featuring a cordless and rechargeable design, the Scrub King can clean, scrub, brush, and polish. It has more torque than any other scrubber and performs nearly 300 scrubs per minute.
Scrub King is perfect for cleaning both indoors and outdoors. Use it to clean bathrooms, carpets, grills or to polish furniture. It even works under water so you can use it to clean your pool.
You can also turn the Scrub King into a powerful steamer and washer. Simply attach the Scrub King to any garden hose or steamer and you'll have a portable scrubber with the power of a water jet and steamer.
Get the Flash Player to see this player.
This Internet exclusive offer of the Scrub King comes with the Scrub King Brush, additional pads, and a carrying case. Purchase the Scrub King for one payment of $59.99 or two easy payments of $29.95.
Update: This offer has expired.