Dropps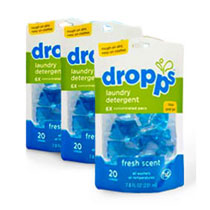 Dropps are the pre-measured liquid laundry detergent pacs you simply toss and go. It dissolves during the wash and provides just the right amount of detergent.
You no longer have to measure and pour those heavy laundry detergent jugs again. Dropps are super-concentrated because they've taken the water out of the formula.
Dropps are made to be tough on dirt and stains, easy on clothes, and also has an enzyme-free formula that will keeps colors bright and fabrics soft.
They work on all types of colors, all kinds of fabrics, all washes and at all temperatures. For a regular load just throw in one Dropps and for extra heavy loads, throw in two. It's that easy.
Not only are Dropps more convient than ordinary liquid detergent, they are also much more enviromentally friendly.  These detergent pacs immediately shrinks the footprint you leave behind on the environment.
Dropps are great whether it is for busy moms, seniors, those living in dorms and apartment, or anyone else who don't want to be bothered with measuring, pouring and lifting those heavy detergent bottles.
Get the Flash Player to see this player.
With this current offer you can order a 3 month supply of Dropps for just $19.95 plus shipping and handling. A single month supply contains 20 Dropps, which is good for 20 regular loads.
Plus as a special bonus you can also get a free Cordless Handy Vac, complete with battery, recharger and a wall-mounting docking station. You just have to pay the additional shipping for it.