MXZ Saw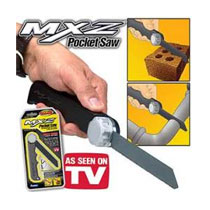 The MXZ Saw is the high-tech pocket saw with the amazing carbide blade. Its unique blade never needs sharpening.
This saw can replace all your other saws. Now you no longer have to use different types of saws on different types of material.
The MXZ Saw is small in size but big on toughness. The blade can lock at 3 different angles to give you the cut you need.
It can cut through solid steel, brick, rubber, tile, copper, wood, aluminum, glass and more with ease. It is guaranteed to never dull or break.
Plus the blade is safe to the touch and it conveniently folds up to fit in cabinets when you are not using it.
Get the Flash Player to see this player.
Right now you can order the MXZ Pocket Saw for just $19.95 plus shipping and handling. As a special bonus you'll also receive the MXZ Wrench for free. Use it to tighten and loosen any size nut.