BarkOff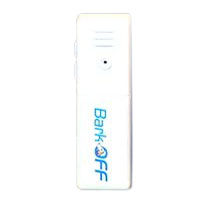 With BarkOff you can easily and humanely train your dog to stop barking anytime and anywhere you want.
It is a brand new pet trainer that uses ultrasonic technology to help you control your dog and stop them from barking.
The ultrasonic signal sent out from BarkOff is inaudible to human ears but will instantly capture your dog's attention to interrupt their barking pattern.
It is a simple and easy solution to calm your dog down and stop them from barking with a painless and natural method. You can use it to teach your pet the difference between nuisance barking and barking that helps protects your family and your home.
BarkOff is completely portable and has no wires or cords. It is small enough to fit in your pocket so you can take it virtually anywhere. It can be used indoors outdoors.
Get the Flash Player to see this player.
A single BarkOff normally cost $10 plus shipping and handling but curently there is a buy 1 get 1 free offer that is available. You'll receive a second BarkOff for ree by paying the extra shipping cost for it.