Solar Animal Repeller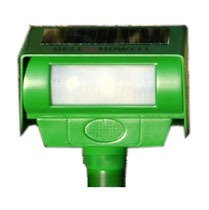 If you are tired of stray animals making a mess on your yard and property then the Ultrasonic Solar Animal Repeller from Bell + Howell can help.
It sends out a high frequency ultrasonic sound is unpleasant to animals and drives them off but is silent to humans.
You can easily mount it on almost any surface with the included mounting stake so you can place it anywhere you want.
When an animal come within range, the built in infrared motion detector activates and the Ultrasonic Solar Animal Repeller emits a powerful ultrasonic sound that sends them away.
It works during both the day and night and has a range of up to 30 feet away. The unit is weatherproof and is also solar powered so you don't have to worry about replacing any batteries.
The Ultrasonic Solar Animal Repeller is the safe and humane solution to prevent raccoons, rodents, dogs, or cats from going through your trash or making a mess of your lawn or garden.
Get the Flash Player to see this player.
You can order the Ultrasonic Solar Animal Repeller for $29.95 plus the cost of shipping and handling. It includes the Ultrasonic Solar Animal Repeller unit, a mounting stake, and a rear mounting bracket with screws to attach it to a tree or fence.