Zoobooks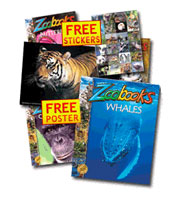 Zoobooks Magazines is a great way to start your kids off on a life-long passion for reading by using their love and curiosity of animals.
The magazines contains amazing animal facts, eye popping illustrations, educations diagrams, and entertaining photos. There are no advertisements.
Zoobooks is  a complete encyclopedia of animals. The series contains 58 different titles on animals from A-Z.
Each Zoobooks issue contains facts about a specific animal or group of animals and includes interactive pullout activity pages to help your children enjoy learning.
The words, captivating photographs, and beautiful illustrations work together to make complex concepts easily understandable.
Get the Flash Player to see this player.
With this special offer you'll receive 12 issues of Zoobooks for just $19.95. That's 44% off the newsstand price and less than $1.70 a month.
But there's more. You'll receive also a free dinosaur edition, a free tiger poster, and free animal stickers with your order.
Update: This offer has expired