Electro Cigarette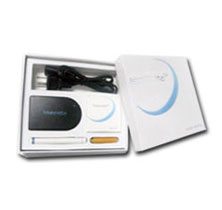 The Electro Cigarette lets you get the pleasure of smoking but eliminates the tar and the over 150 harmful toxins found in regular cigarettes.
It will help you satisfy your craving without having to further endanger your health. You get the sensation of smoking but without the tar, carbon monoxide, ash, stub, flame or smell.
Plus it can help you dramatically cut down on your smoking costs. You can save anywhere between 50% to 75% with the Electro Cigarette.
To inhale or smoke an Electro, you just attach a cartridge to the Electro base. The cartridge releases and creates a vapor-like smoke that is inhaled by the user.
This vapor is what you see when exhaled but it is not smoke but is actually water vapor. The water vapor doesn't have the after affects of traditional smoke and poses no second-hand smoke threats.
The Electro can be used legally almost anywhere, even where traditional smoking is prohibited. This is because since it is not lit, there is no conventional smoke produced.
Get the Flash Player to see this player.
The Electro Cigarette Starter Kit comes with 1 Electro, 5 Nicotine Cartridges, 1 Charger Unit and Cord, Complete Instructions, and a Referral Card. It is only $119.95 plus shipping and handling.
Or get the Starter Packages which includes everything in the Starter Kit plus an additional 20 Cartridges for just $159.90 plus shipping and handling.