ParaSlim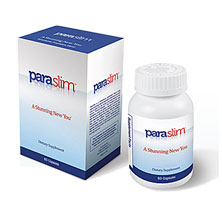 Experience a stunning new you with ParaSlim, a top rated celebrity weight loss solution. It is created using scientific theories to help with weight loss management.
ParaSlim was formulated around the famous "French Paradox" theory and contains all natural ingredients that are supported by clinical research tests.
It works to provide a unique and targeted solution that helps the body lose inches, flatten the stomach, and provide natural weight loss.
There are four key areas behind the effectiveness of ParaSlim. The first is its ability as ametabolic thermogenic booster. The natural blend of exotic spices in it helps heat up the body's fat burning ability to burn more calories.
Second, ParaSlim also works as an appetite supression to reduce hunger cravings that makes weight loss difficult. Third, the formula helps to facilitate digestion and improve food absorption for more effective weight loss.
Last but not least, ParaSlim also helps the body maintain a healthy glucose metabolism with a unique blend of minerals. This helps reduce the desire for simple carbohydrates, a sugar fix for the body.
Get the Flash Player to see this player.
Some of the celebrities that are successfully using ParaSlim and is endorsing it includes Kimberly Caldwell of American Idol fame, Brooke Hogan, Molly Shea from "Sunset Tan", and Ashley Weaver from "The Bad Girl's Club".
A 30-day supply of ParaSlim retails for $79.95 but right now there is a special 14-day free trial offer available. You can try ParaSlim by just paying $3.95 for the cost of shipping and handling.
Update: This offer has expired