Michael Jackson Secret Vault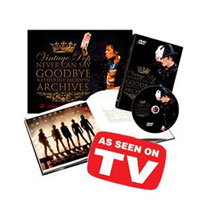 The Michael Jackson Secret Vault collection lets you see Michael like you never had before with hundreds of different personal photos.
The "Never Can Say Goodbye" book is written by his mother Katherine Jackson and contains an untold story of Micheal Jackson by the women who knew him best.
In the book Katherine Jackson narrates 150 pages of worth of different photos from her family's own personal archives that were never before seen by the public.
Katherine Jackson wanted to world to truly know her son and share the stories that were closest to her heart about him.  The book is both a dedication to the fans of Michael as well as to his children. This book inspired an entire special episode on the Oprah Winfrey Show.
Plus Michael Jackson Secret Vault also includes a special DVD which contains never before seen video footage of Michael. This includes his final birthday wish and the first interview with Katherine Jackson since Michael's death.
Now there's also a free 16 month calendar included. It contains photos of Michael's best concert performances, which were never previously released to the public.
Get the Flash Player to see this player.
You can order the Micheal Jackson Secret Vault collection with the book, DVD and calendar for $39.99 plus shipping and handling.
In addition, there's also a buy 2 get 1 free offer available where you can get 3 total sets of Micheal Jackson's Secret Vault for $79.98 plus the cost shipping and handling.
Update: This offer has expired