9-11 Two Dollar Bill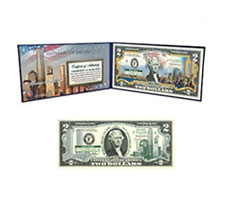 The 9-11 10th Anniversary Two Dollar Bill commemorates the historic events of September 11, 2001 which happened now almost a decade ago.
These fully-detailed and authentic two dollar bills have been privately enhanced by the New England Mint to help remember one of the most defining events in our nation's history.
The 9-11 $2 Bill is an opportunity to commemorate the history of a day that will always be remembered forever as part of our country's history. It is a piece of currency that can be passed through generations.
On the front of the 9-11 10th Anniversary $2 Bill is the portrait of Thomas Jefferson, our nation's third president. To his right is the Twin Towers of the World Trade Center as they once stood.
To his left is the new Freedom Tower, the new tower currently being constructed on ground zero that will replace the World Trade Center. On the bottom right corner are the words "Always Remember" to signify the events of 9-11 will never be forgotten.
The other side features another extremely significant event in American history, the signing of the Declaration of Independence by our the forefathers of our nation.
Get the Flash Player to see this player.
Each 9-11 10th Anniversary $2 Bill sells for $10 plus the cost of shipping and handling. Through this special offer you can also get the 9-11 New York Skyline $2 Bill free with your order by paying the extra shipping cost for it.
The New York Skyline $2 Bill is in full color and features the image of the World Center Towers raising above the New York as they once did. The words "Never Forget" are printed across the bottom right of the bill.
Each 9-11 Two Dollar Bill comes with its own certificate of authenticity. Plus for an additional $6, you can get a 4-Panel Archival Folio for protecting and displaying the 9-11 $2 bills.
Update: This offer has expired