Swivel Mop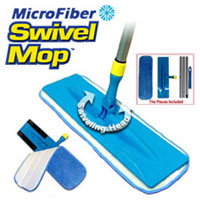 The MicroFiber Swivel Mop allows you to clean faster, easier, and better than ever before. The special reusable mop pad is made of special looped microfiber that can quickly and easily loosen, lift and trap dirt like magic while easily gliding over floors.
It can be used wet or dry and works on most surfaces, including hardwood, tile, vinyl, and more.
The swivel head of the Swivel Mop can conveniently maneuver around furniture and into tight areas.  The low-profile design allows to go under furniture with ease.
Use the Swivel Mop to clean dirt, scuff marks, grease, pet hair, spills and much more. The reusable mop pads are machine washable.
Save money by not having to buy expensive disposable pads and reduce the use of harsh chemical cleansers in your home.
Get the Flash Player to see this player.  
The Swivel Mop kit includes 1 Micro Fiber Mop Head, 2 Deluxe Mirco Fiber Cloths, and 1 Snap-Together Full Length Pole.
Order the Swivel Mop for $14.99 plus shipping and handling and receive a Glass Wizard cleaning kit for free. Use it to effortlessly clean glass and tiles like magic.