SpongeTech Car Wash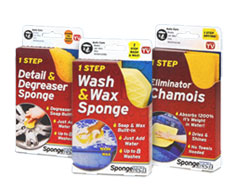 The SpongeTech Complex Car Wash and Waxing System is an all in one single cleaning solution like you've never seen before.
You can throw away the buckets, soaps & conditioners because the Sponge Tech sponges has the soap and wax built in.
With the patented soap infusion process, you just wet the sponge and squeeze to use. Just rinse and repeat when you need it again. Each can be used up to 8 times.
The sponges are made from patented Super Absorbent Polymer technology for maximum performance. They are also biodegradable, making them eco-friendly.
The SpongeTech Car Wash Kit includes  the Auto Wash & Wax Sponge, Detail & Degreaser Sponge, and Eliminator Chamois.
Get the Flash Player to see this player.
Normally this complete car care system retails for $16.95 plus shipping and handling but right now there is a special double offer where you receive a second set free.
That means you get 2 Wash & Wax sponges,  2 Detail & Degreaser Sponges, and 2 Eliminator Chamois for just $16.95 plus shipping and handling.