John Beck Pennies On The Dollar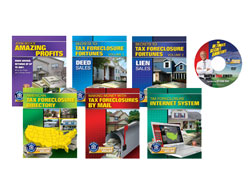 Learn how to purchase real estate as amazing discounts with John Beck's Pennies On The Dollar system.
The current economic crisis is making more and more properties available every day at tremendous bargains because of tax foreclosures.
With John's system you can earn thousands per month and turn the recession around for yourself.
Students of John Beck had learned how to purchase homes at pennies on the dollar with no monthly payments.
Others have purchased houses for as low as $300 out of pocket and sold them for huge profits.
Pennies On The Dollar will show you how to find these great properties and how you can easily profit from them. John has designed his system so that you don't pay a lot of money and no prior experience is necessary.
John Beck's Pennies On The Dollar Real Estate System includes:
Amazing Profits
Tax Foreclosure Fortunes 1: Deeds
Tax Foreclosure Fortunes 2: Liens
Tax Foreclosure Directory
Tax Foreclosures By Mail
Tax Foreclosure Internet System
My Ultimate Secret Shortcut
Get the Flash Player to see this player.
Right now you can order the Pennies On The Dollar system at the recession discounted price of just $39.95 plus shipping and handling. It comes with a 30-day money back gurantee. Plus with your order you'll receive a ton of valuable free gifts.
This includes access to John's exclusive membership website, John's Property vault with 2.3 million listings, a toll free advisory hot line, John Beck's monthly teleseminars and webinars, the Internet Club Newsletter and bonus DVD.
Update: This offer has expired