PupLight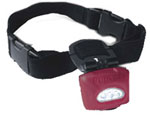 PupLight is a dog collar that helps keep your pets safe. Whether he's on a leash or walking alone, help him see and make him visible at night. It is the same collar used by the dogs of the U.S. Secret Service.
PupLight features three ultra-bright LED lights that can illuminate up to 200 ft. It uses a rugged and water resistant construction that easy to use. The collar is made of elastic material for comfort.
PupLight works for dogs 5 lbs and up. The adjustable collar allows it to fit on small dogs, medium dogs, and large sized dogs. PupLight has won the endorsement of the American Canine Association (ACA).
Get the Flash Player to see this player.
The benefits of PupLight includes:
Keeps You and Your Dog Safe
Convenient and Easy to Use
Lets You See Where You and Your Dog Are Stepping
Makes You Feel Safe At Night
Allows You to See Your Dog When He's Outside Your House at Night
Helps You Locate Your Dog If He Runs Off
Keeps Your Dog Safe From Cars
Extends the Amount of Time You and Your Dog Can Safely Walk
Helps Dogs with Poor Vision to See Better
PupLight costs $19.99 plus the cost of shipping and handling. You have four different colors to choose from, silve, red, black, and blue.