Emery Cat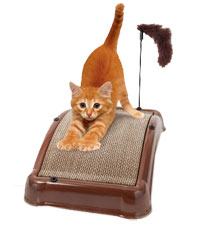 Now your cat can trim their own claws with the Emery Cat Board. It is a fun new kitty scratcher that actually grooms your cat's nails while they play.
The secret is the Emery Cat's patented honeycomb surface that works like a nail file. It gently files away sharpness giving your cat perfectly trimmed nails.
Plus it is infused with an irresistible catnip so your kitty keeps coming back for more. The special arch design is perfect for stretching and scratching.
You no longer have to worry about the hassle of having to trim your cat's nails. Also with nail clippers they cut too close to the quick, causing pain for your cat.
But with Emery Cat your pet safely files its own claws each and every time they play on it. It is convenient for you and pain-free for your pet.
Ordinary scratching posts can cost as much as $100 and they won't trim your cat's claws. Emergy Cat is available at a fraction of the cost.
Get the Flash Player to see this player.
The Emery Cat package includes the Emery Cat Board, a cute playful kitty toy, and a packet of catnip. As a special bonus you'll receive a de-shedder brush with your order.
All this is valued at $45 but it is your's for just $19.95 plus shipping and handling. But there's more. Right now there is a special buy 1 get 1 free offer.
That means you get 2 Emery Cat Board packages and 2 de-shedder brushes for the same price. Just pay the additional shipping cost.