Comfy Control Harness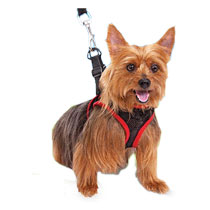 Get the world's most comfortable harness for your dog with the Comfy Control Harness. It won't choke your pet like many collars do.
Regular dog collars can put pressure on your dog's neck and lead to injury. But the Comfy Control Harness is the humane harness that is safe, lightweight , and also easily adjustable.
The unique design gives your pet maximum comfort and safety every time you take them out for a walk or a stroll.
The Comfy Control Harness was created so the pressure is moved away from your dog's neck and instead is evenly distributed to their shoulders and back. It does not constrict your dog's breathing, so it works great for dogs that have snouts or any breathing problems.
Other dog harnesses are hard to put on but the Comfy Control Harness is  a stylish vest that slips right on. It is easily adjustable and goes on in just seconds. Plus the open weave design allows for air to flow through.
The Comfy Control Harness is available in four different sizes. You can choose from Small, Medium, Large and Extra Large. Plus each harness also comes with a easy clip 5 foot leash.
Get the Flash Player to see this player.
Normally a single Comfy Control Harness with the matching leash sells for $10.99 plus shipping and handling. But right now there is a special double offer there is available.
You'll get a second second harness and leash with your order for free. All you have to do is pay for the extra shipping and handling cost of the free set.