The Right To Bare Legs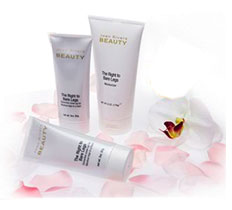 With The Right To Bare Legs from Joan Rivers Beauty you can get smooth, sexy legs that look airbrushed to perfection.
It is a corrective cover-up that works on all types of skin imperfections on the legs and also the body.
You can use The Right to Bare Legs to quickly camouflage spider veins, freckles, scars, age spots, beauty marks, bruises, tattoos , birthmarks and more.
It goes on smoothly and evenly with the built in sponge applicator and dries fast. The formula is water-proof, sweat-proof and won't rub off on your clothes.
The Right to Bare Legs will work on all skin types and skin tones. The coverage will last until you wash it off with soap and warm water.
Get the Flash Player to see this player.
There are three different shades available for the Right To Bare Legs. Fair for are those with light and more pale skin tones. Medium is ideal for those with medium complexions and those that tan easily. Tan is for individuals with deep tanned skin and darker complexions.
You can get two 3 oz. tubes of the Right To Bare Legs Cover-Up for just $19.99 plus the cost of shipping and handling with this current buy 1 get 1 free offer.