Luminess Air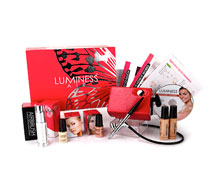 Now you can have the same gorgeous look of celebrities and models with the Luminess Air airbrush makeup system.
This is the same airbrush makeup technology used on TV, film, and print to help celebrities look extremely flawless.
Luminess Air now brings the amazing airbrush technology home for everyone to use. It has everything you need to get that true airbrush look.
You can look up to 10 years younger in an instant as wrinkles, fine lines and age spots vanish after applying Luminess Air makeup.
Luminess Air is both fast and convenient to use. You just turn on the airbrush, place a few drops of makeup into the Stylus, and gently apply to the face or body.
You can be done in just half the time it takes to apply conventional makeup. Airbrushing not only gives you a fantastic look but it is very light weight and feels like you don't have any makeup on at all.
The Luminess Air system includes the stainless steel professional airbrush stylus, air source compressor, the training DVD featuring Desperate Housewives head makeup artist John Elliot, and $200 worth of airbrush cosmetics.
This includes different four shades of your personalized foundation, airbrush blush, body shimmer pearlizer, Micro-Bronzer and more.
Get the Flash Player to see this player.
The Luminess Air Beauty system retails for $230 but right now you can try it fist for 30 days at home with this current trial offer. You just have to pay $29.95 plus shipping and handling.
Or you can try the more advanced Luminess Air Pro which features 3-Speed control and more delicate modes for $39.95 plus shipping and handling.
The trial of Luminess Air comes with a 30-day money back guarantee. If you are not satisfied, you can simply send the product back to receive a refund.