YoshiBlade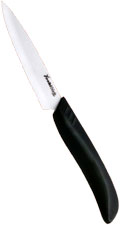 The YoshiBlade is one of the world's best ceramic knife. It is razor-sharp and at the same time is also feather-light.
Unlike steel knife blades, which 'roll up' along the cutting edge, ceramic knives like YoshiBlade stay razor-sharp. This is because they're made of diamond-hard, stain-proof zirconium oxide.
In fact, the space-age is so hard that professional chefs actually use ceramic to sharpen their expensive steel knives. 
A YoshiBlade ceramic knife is rust and stain proof, easy to clean, and does not affect the taste or smell of food like steel knives do.
The eco-friendly material used in YoshiBlade is 40% sharper then regular steel knives. Not only is it enviromentally friendly to produce, it works better and lasts longer.
The YoshiBlade is the last knife you'll ever need. Unlike the old fashioned steel knives, ceramic rarely needs sharpening. The company has a lifetime guarantee that the YoshiBlade will stay sharp and last forever.
Get the Flash Player to see this player.
Each YoshiBlade also comes with a Cermaic Peller included for free. Normally a single set is $19.99 plus shipping and hanlding but with this buy 1 get 1 free offer, you'll get an additional set for free.
You just have to cover the extra shipping on the second set. That's 2 YoshiBlades and 2 Ceramic Peelers for just $19.99 plus shipping and handling.