Sideshow Skillet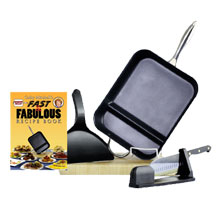 Now you can cook two different items at once and save time with the new Sideshow Skillet from Cathy Mitchell.
It is a non-stick skillet with a special side compartment, leting you cook 2 different dishes at the same time and without mixing any flavors.
Once you used the Slideshow Skillet, you'll won't ever want to cook another meal without it again.
Not only can you cook two different foods at once, it also helps cook your favorite meals faster. You can use it to make eggs sunny side up with just a single teaspoon of water.
Plus the design lets you easily collect and contain excess grease in order for healthier meals. In addition, you can also put the Sideshow skillet in the oven to make meat balls and other dishes.
Cleaning up the Slideshow Skillet is simple too because nothing ever sticks to this skillet. It is also dishwasher safe too for quick and easy cleaning.
Get the Flash Player to see this player.
You can order Cathy Mitchell's Sideshow Skillet for just $19.99 plus the cost of shipping and handling. The Sideshow Skillet Spatula along with a Fast & Fabulous Recipe Booklet is included.
Plus as an added bonus you'll also receive a free 7-inch Titanium edged Santoku knife and a stand for it with your order. You just have to pay the additional shipping for it.