Samurai Pro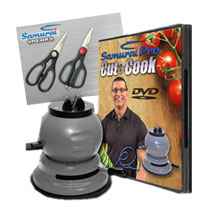 Sharpening your knives have never been easier thanks to the Samurai Pro. It can make your old and dull knives razor sharp again in just seconds.
The Samurai Pro will sharpen your knives so they are like brand new again. You just lock it down and draw the blade across.
Your dull outed knives will be sharpened and ready for use. You can now easily cut vegetables, meats, fruits and more.
The special vacuum seal lets the Samurai Pro be locked onto almost anywhere. It can mounted horizontally, vertically and even upside down if you want.
The Samurai Pro uses tungsten carbide blades to sharpen your knives. Plus they are adjustable so you can use it to sharpen your scissors, shears and other cutting tools as well.
With its small and portable size, you can take the Samurai Pro with you everywhere you go. It is perfect to have for cookouts, fishing or camping.
Get the Flash Player to see this player.
The Samurai Pro sells for $14.99 plus shipping and handling. Each one also comes with a free Chef Irvine's Cut N' Cook DVD with tips on cutting and cooking.
Plus as part of this special offer you'll also receive a bonus pair of Kitchen Shears and All Purpose Shears free with your order. You just have to pay the extra shipping and handling for them.