TopStyler by InStyler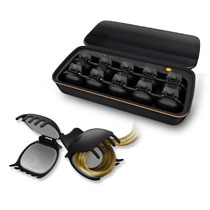 The TopStyler by Instyler is a fast and easy to use hair tool which gives you incredible, fabulous, bouncy curls. The results can last 3 times longer than those from a curling iron.
TopStyler has reinvented hair styling and can create the perfect curls which are healthy, shiny, and bouncy while adding amazing volume and body.  It is a whole new way to style your hair.
The secret behind the TopStyler is it's breakthrough design. It uses the patented C-Shells which are made of 100% solid ceramic tourmaline in order to style your hair.
The C-Shells surrounds the hair and gently and evenly infuses it with even heat along the entire length of the hair. They allow you to create curls to any size, from tight spirals to flowing, beachy waves.
You can use the TopStyler on all hair types and lengths. Plus it styles your hair using only low, gentle hair so it doesn't cause any damage.
With other hair tools such as hair irons and curling irons, they use intense heat which fry and bake your hair. This can lead to hair damage, breakage and split ends.
In addition since the TopStyler allows your hair to cool and set in place inside the chamber of the C-Shell, your curls will stay in place and least much longer. You won't have to worry about your curls going flat before the end of the day.
Get the Flash Player to see this player.
The TopStyler by InStyler includes the TopStyler Rapid Heat Thermal Base, 5 Large C-Shells,  and 5 Regular C-Shells. As free bonuses you'll also receive a set of 2 4-in-1 EZ Wrap Styling Wands, an Instructional Styling Guide, and Instructional DVD with every order.
Normally the TopStyler sells for $163 but with this current online special with instant rebate you can order the TopStyler for just $99.99. Plus it even comes with free shipping and handling.