Keranique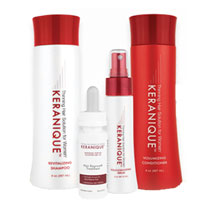 Keranique is a thinning hair solution that is especially formulated for women. It helps treat thin, dull, lackluster and balding hair for women with all ages and hair types.
The 4 products in the system are specially designed to targeted to a women's biochemistry in order to help regrow fuller hair, volumize damaged hair, and reverse signs of hair loss.
Keranique contains clinically proven ingredients that has been FDA-approved to help stop hair loss and actually regrow hair. The products are color safe and sulfate free.
With almost 50% of women experiencing some kind of hair loss by age 50, hair loss is a much bigger problem for women then some think. It can caused by various conditions and circumstances, which Keranique can help address.
The 4 products in the Keranique system includes:
Revitalizing Shampoo for Thinning Hair
Volumizing Conditioner for Voluminous Shine
Hair Regrowth Treatment for Hair Loss
Follicle Boosting Serum for Thicker-Looking Hair
With the continued use of the few easy steps in the Keranique system and just a few easy steps, you can stop hair loss and get nourished and healthier-looking hair over time.
Get the Flash Player to see this player.
A 60-day supply of Keranique sells for $119.90. Currently there's a 30-day trial offer available where you can try the Keranique system for 30 days first risk-free.
You just have to pay $7.95 for the shipping and processing cost. If you use the coupon code SHIPSAVE you can save 50% off the shipping and processing cost.