RevAbs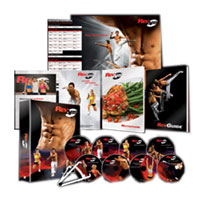 With RevAbs you can get the sexy abs you want without having to do endless sit-ups, boring crunches, or having to use ab machines.
This brand-new ab system created by Brett Hoebel is designed to burn off fat and give you a six-pack in just 90 days.
RevAbs is so effective because of Brett's proven technique called Abcentrics. It works out your abs from 6 different angles, not just one or two.
The workouts are made to engage your abdominal muscles during every rep of every exercise.  Every single move will count and help you get the body you want.
The RevAbs system contains 9 routines on 7 DVDs. They are:
Abcentrics and How to Capoeira
Fire Up Your Abs
Power Intervals
Total Strength and Mercy Abs
Fat-Burning Abs
Power Intervals 2
Strength & Endurance and Merciless Abs
Get the Flash Player to see this player.
In addition to the 7 workout DVDs, you'll also get the RevGuide and a Nutrition. It shows you everything you need to know in order to get the most out of your 90-day ab transformation.
You can order the RevAbs system for just 2 easy payments of $39.95 plus shipping and handling. As a special bonus, you'll receive a set of 4 bonus gifts.
You'll get an extra Rev It Up Cardio DVD, the Anytime, Anywhere Abs workout guide, a RevAbs Wall Calendar, and a Professional Fat Caliper.