Shark Professional Steam Pocket Mop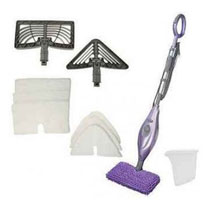 The Shark Professional Steam Pocket Mop is a new steam mop with 3 levels of Intelligent Steam Control. It features 3 different steam cleaning settings for different specific cleaning needs and floor surfaces.
The different modes releases the perfect amount of steam and at ideal temperatures to clean and sanitize your floors. It can kill over 99.99% of bacteria and germs without any use of chemical cleaners.
The Steam Pocket Mop cleans by heating up ordinary tap water and converting it into a deep cleaning and germ-killing steam vapor. So there's no toxic residue left behind on your floors like chemical cleaners and it's better for the enviroment too.
The three settings of the Intelligent Steam Control on the Shark Steam Pocket Mop are Dust, Mop and Scrub.  The dust setting is ideal for Laminate, Sealed Bamboo, Marble and Hardwood type floors. It offers light steam dusting and is great for quick everyday cleaning to loosen and lift light dirt off your floors.
The Mop setting is for your basic, weekly mopping. Use it to get rid of spots, smaller messes, and for moderate cleaning. It is ideal for using on Sealed Hardwood, Tile and Stone Floors.
The Scrub mode is removing tough stuck-on messes and stains. It deep cleans and cut through heavy dirt buildup. With the included carpet glider you can also freshen and cleans area rugs or your carpets.
Also unique to the Shark Steam Pocket Mop are it's double pocketed microfiber pad. The pockets help grab onto dust, grime and sticky messes better than ordinary microfiber clothes for for maximum cleaning power.
Get the Flash Player to see this player.
The Shark Professional Steam Pocket Mop comes with a set of accessories that includes a 12″ Rectangular Head, a Triangular Head, 2 Microfiber Pads, a Carpet Glider and Direct Steam Nozzle.
It sells for 4 payments of $39.95 with free shipping. Plus as an added bonus you can also get a free Shark Portable Steamer for above the floor cleaning. You just have to pay the processing and handling cost for it.