Murad Acne Complex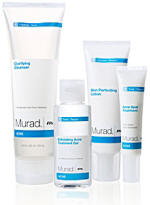 Murad Acne Complex will give you clear and beautiful skin. It is the last acne product you will ever need.
The Murad company has devoted decades to perfect the science of skincare and now brings you the perfect acne system.
Murad's acne solution has been featured in numerous magazines and has won the Editor's pick for Best New Product in InStyle.
It was personally developed by Dr. Howard Murad, the world-renowned dermatologist, to effectively treat acne problems without leaving the skin dry.
Murad Acne Complex includes 3 simple products that you use twice a day. 
The system contains Murad's Clarifying Cleanser, Exfoliating Acne Treatment Gel, and their Skin Perfection Lotion.
Get the Flash Player to see this player.
Order Murad Acne Complex today for only $29.95 plus shipping and handling. Plus you'll receive an Acne Spot Treatment, the Clarifying Mask, and an upgrade to priority shipping for free.