Nutra Sonic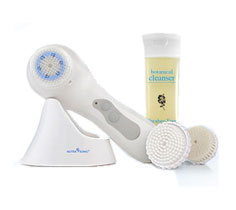 Nutra Sonic will help cleanse your skin the right way and make you look younger. It uses advanced sonic technology to gently shake away impurities and dirt away from the skin.
The results from Nutra Sonic can't be achieved using just your hands or other traditional methods. Once your pores are clear, any other skin care products you use can be absorbed more easily and provide better results.
In addition to cleansing your skin, the Nutra Sonic also provides a gentle microdermabrasion treatment as the same time, like the ones from a dermatologist, to help you get softer and smoother skin.
The Nutra Sonic oscillates at 400 times per second in order to exfoliate your skin, remove dead skin cells that could otherwise end up clogging your pores. Plus it also gets rid of  oil, dirt, and makeup residue.
You can use the Nutra Sonic daily because of how gentle it is. It only takes a few minutes a day in order to help reduce wrinkles, get rid of dry or oily areas, unclog and minimize pores, and exfoliate away dead skin cells.
Get the Flash Player to see this player.
The Nutra Sonic system includes the Nutra Sonic brush with universal charger, a brush for sensitive skin, a brush for normal skin, a body brush, and a free bonus Botanical cleanser.
Nutra Sonic costs 2 payments of $49.95 plus shipping and handling. With this current trial offer you can try it first risk-free for 30 days by paying $14.95 for shipping and handling.