Planet Earth DVD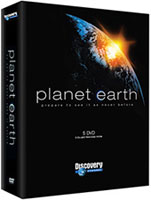 Prepare to see Earth like you've never seen before with the amazing Planet Earth DVD series, brought to you by the Discovery Channel.
This 11-part series will amaze viewers with never-before-seen animal behaviors, startling views of locations captured by cameras for the first time and unprecedented high-definition production techniques.
The Planet Earth series is narrated by award-winning actress and conservationist Sigourney Weaver.
With more then five years in the making, Planet Earth redefines the standard in natural history film-making and continues the Discovery Channel mission to provide the highest quality programming in the world.
This ground breaking and critically acclaimed series is the winner of an astonishing 4 Emmy Awards.
flashvideo file=http://www.asseenontvpromo.com/videos/planetearth.flv image=http://www.asseenontvpromo.com/videos/planetearth.jpg width=360 height=300 /]
With this special introductury offer you can order the first DVD in the Planet Earth series, which contains 3 episodes, for just $9.95 plus shipping and handling. That's $12 off the regular price of $21.95. Or buy the complete set of 5 Planet Earth DVDs for just $49.95 and get free shipping and handling.
Also, if you have a Blu-ray player you can enjoy Planet Earth in amazing high definition clarity. Get the single Planet Earth Blu-ray for $11.95 plus shipping or the complete series on Blu-ray for $69.95 with free shipping.
Update: This offer has expired