Sheer Cover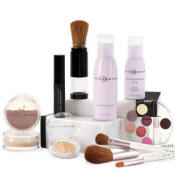 Let the real you shine through with Sheer Cover mineral makeup. It is makeup that is actually good for your skin.
The mineral difference is clear. Sheer Cover minerals are 100% natural and are infused with skin soothing botanicals, natural sun protection, and anti-oxidant green tea.
Not only will Sheer Cover help you look great, it will also help protect your skin from the visible signs of premature aging.
Sheer Cover also has an exclusive formula of light reflecting minerals that blend magically with your skin's natural oils. This gives a perfect coverage that's amazingly light.
The Introductory Kit of Sheer Cover includes:
2 Mineral Foundation SPF 15
Duo Concealer
Pocket Duo Kit
Sheer Color Compact
Extra Length Mineral Mascara
Studio Contouring Brush
Studio Concealer Brush
Studio Powder Brush
Conditioning Cleanser
Nourishing Moisturizer SPF 15
Makeup Case
Tips & Tricks DVD
Get the Flash Player to see this player.
Right now you can get the Sheer Cover Introductory Kit for only $29.95, including free shipping. That is a 50% savings.