PackIt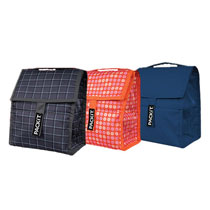 PackIt is a the portable and freezable lunch bag that keeps your food fresher longer. It is like having your own go anywhere mini-fridge.
The revolutionary 360 degree cooling technology PackIt can keep food refrigerator fresh for up to 10 hours. Compare that to ice packs which only lasts 2 hours or so.
With PackIt having healthy homemade meals at school or work is now possible. Plus any leftovers from lunch can go safely back inside your refrigerator.
Using PackIt you can pack a much healthy and natural meal than you can when using just paper bags or ordinary lunchboxes. You won't have to worry about healthy fresh foods going bad.
All you have to do is just fold up a PackIt and place it inside the freezer overnight. When you need it, just take it out, unfold it, and place your contents inside. Then just take it with you and go anywhere.
PackIt isn't is made with safe and eco-friendly materials. It is lead-free, PVC-free, BPA-free, and non-toxic. Plus since it is reusable you'll be helping cut down on waste by not using those disposable brown lunch bags.
Plus PackIt isn't just for lunches either. You could use it for your baby bottles, keeping beverages cold and food cold during sports events, while traveling, while golfing, at the beach, or anywhere else you need to keep items cold.
Get the Flash Player to see this player.
A single PackIt normally sells for $19.99 plus shipping and handling but currently there's a buy 1 get 1 free offer. You'll get a second PackIt for free by paying the additional shipping and handling.
There's 3 different colors to choose from with Aqua, Polka Dot and Plaid. You can choose 2 different colors for your 2 PackIts with this special buy 1 get 1 offer that's available.
But there's most because you'll also get a free set of bonus items too. It includes 2 Pack & Lock Freshness Containers, 2 Spill-Proof Drink Bottles, and a 5 minute Meal Planner. Just pay the extra shipping and handling for them.