Fridge Locker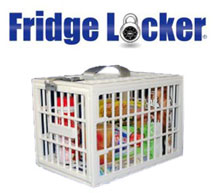 The Fridge Locker is your very own personal food security system that stops others from eating your food in the fridge.
You know the feeling when you are hungry for a delicious snack and refreshing beverage that should be waiting for you in the fridge, but when you open the door it's gone.
Next time you can keep your food safe and secure at home, the office or the dorm with the Fridge Locker to prevent others from raiding your food.
With the Fridge Locker you can secure your lunch, sweets, drinks, snacks or just about anything else. It features a chrome metal combination lock which you can choose your own combination.
The walls of the Fridge Locker securely snap together to lock and secure anything inside quickly and easily. It works in the fridge, freezer, or the pantry.
The Fridge Locker is so strong that even a 800 lb grizzly bear couldn't get into it. Plus it is extremely portable and you can take it with you anywhere.
Get the Flash Player to see this player.
The Fridge Locker usally costs  $19.99 plus shipping but you can currently take advantage of the buy 1 get 1 free offer offer thats available. You'll get an additional Fridge Locker for free with your order. All you hae to do is paying for the extra shipping charge.