EZ Moves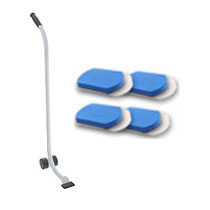 Trying to move heavy furniture by yourself can a difficult task and not to mention that you can end up injuring your back. That is why you should use EZ Moves.
It is the furniture lifter that helps you lift up to 10 times your natural strength and helps prevent injuries from occurring by eliminating the need to lift and carry.
With EZ Moves you just have to lift, place and slide to easily maneuver furniture around your home. It is great whether you are cleaning places blocked by furniture, rearranging a room, or adjusting appliances.
To use EZ Moves you first just have to lift a corner up with the EZ Moves Furniture Lifter and then place a EZ Slides underneath and repeat the process for all four edges.
There are EZ Slides for both hardwood and smooth surfaces and carpet. When the EZ Slides are underneath, you can easily slide your furniture across the room.
Once you have your furniture positioned where you want, just use the EZ Moves Furniture Lifter to remove the slides. You can use EZ Moves to move up as much as 2,600 pounds. It won't cause any damage to your furniture.
Get the Flash Player to see this player.
The EZ Moves kit comes with a EZ Moves Furniture Lifter, 4 EZ Slides for Smooth Surfaces, and 4 EZ Slides for Carpet. It sells for $19.99 plus shipping and handling.
Right now you can take advantage of a double offer and get a second EZ Moves kit for free by paying the extra shipping and handling. This means you get a total of 2 EZ Moves Furniture Lifter, 8 EZ Slides for Smooth Surfaces, and 8 EZ Slides for Carpet.