Snuggie for Dogs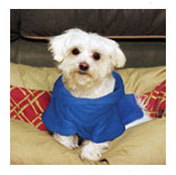 Now the great blanket with sleeves is available for your dog with the new Snuggie for Dogs.
Snuggie Blankets brought you the comfortable and cozy blanket with sleeves and now you can bring that same comfort home to your dog too.
Dogs will love the soft fleece blankets and you'll love their great look in their own Snuggie.
Snuggie Dog will keep your pet warm totally warm when out in the chilly air. They are also great for indoors too.
Unlike dog sweaters where you have to struggle to get your dog to wear, Snuggie Dog goes on easily with mini sleeves. Plus there is velcro for a secure fit.
Snuggie for Dogs comes in either blue or pink and is available in sizes to fit all dogs. The extra small is for dogs 5 to 7 lbs, small is for 8 to 11 lbs, medium is for 12 to 19 lbs, and large are for dogs over 20 lbs.
Get the Flash Player to see this player.
When you purchase a Snuggie for Dog for $14.99 plus shipping and handling, you'll also receive a free Recordable Dog Tag. You can record a message on it to ensure your dog makes it home safely if they ever get lost.
But wait there's more. Right now there is a buy 1 get 1 offer when you can get a second Snuggie for Dog and Recordable Dog Tag free. You just have to pay the additional shipping and processing cost.