Pet Rider Seat Cover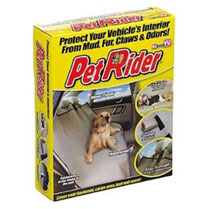 The Pet Rider Seat Cover will help protect the backseat of your car from mud, dirt, fur and odors when riding with your pet. It'll keep your upholstery clean and free of scratches.
It is perfect whether you are taking your pet to the park, the beach, the vet or anywhere else. The Pet Rider can be easily installed in just seconds with the adjustable straps and zipper.
The seat cover locks securely into place once installed but can also easily be removed when needed. You can adjust it to fit the backseat of any car, truck, van or SUV to protect your upholstery.
Plus the Pet Rider Seat Cover is also waterproof in case your pet has an accident. Now you won't have to worry about your pet ruining your car during a long road trip.
In addition, there's other uses for the Pet Rider too aside from protecting your car's upholstery. The adjustable design lets you install it on couches too for indoor use.
Cleaning the Pet Rider is easy too since you can just wipe it with sponge or paper towel and most small messes will come right off. For bigger messes you can simply throw it into the washing machine.
Get the Flash Player to see this player.
The Pet Rider Seat Cover normally sells for $14.99 plus shipping and handling but currently there's a buy 1 get 1 free offer that is available.
You'll receive a second Pet Rider for free along with a free bonus surprise gift which is valued at $20. You just have to pay the extra shipping and handling cost for them.