Cat's Meow Toy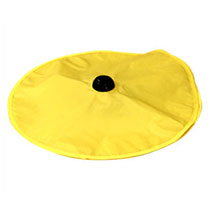 Cat's Meow is a cat toy designed to help keep your cat entertained day and night. To cats it appears that a mouse is hiding underneath, running around while its tale is sticking out.
The natural predator instincts of cats well cause them to stalk, chase, grab, and try to pounce on it, no matter what their age or breed is.
Plus your cat won't get bored because Cat's Meow uses random movements, speeds up and slows down, sweeps in different directions, and changes directions when less expected.
The Cat's Meow toy is a good way to keep older cats healthy by getting them to exercise instead of sleeping all day. It also keeps younger energetic kitties occupied so they don't scratch up your home or cause other mischief.
Cat's Meow is battery powered and there's no cords to plug in. So you can place it just about anywhere your cat likes to play. Just press the button on top to turn it on and watch it go. Plus even you can enjoy hours of fun watching your cat chase the mouse.
The cover is made using durable rip stop nylon material. It is designed to withstand the wear and tear from the claws of cats and will last for years.
Get the Flash Player to see this player.
The Cat's Meow toy sells for $19.99 plus the cost of shipping and handling. Currently though there's a buy 1 get 1 free offer which is available where you can get a second Cat's Meow for free. You just have to pay an additional shipping and handling charge.