Face Disc by Lauren Hutton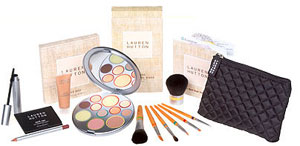 Now you can put your best face forward with Face Disc from Lauren Hutton.
Face Disc is Lauren's best invention yet. It is different makeup made just for women over 35 and includes everything you need for your face in one sleek compact.
Makeup from Lauren Hutton are light in texture and delicate in color, giving beautiful nature appearance. 
Face Disc is conveniently made for people who don't want to look like they're wearing makeup, foundation, concealer or blush and who don't want to waste a lot of time in front of the mirror.
Each product in the Face Disc kit is surrounded by a colored ring that matches a color band found on the 7 piece brush set.
With this convenient color coding, there is no mystery about which makeup brush should be used with which product.
Face Disc by Lauren Hutton includes:
Face Disc (contains 11 pots of makeup)
Lauren's 7-Best Brushes with Carrying Case
Fold Out Instruction Brochure
Face Disc Instruction DVD
Lauren's Lengthening Mascara
Get the Flash Player to see this player.
Right now you can get a 30-day trial of Lauren Htton's Face Disc by just paying $29.95 for shipping and handling.
Along with your free trial you'll get free bonus gifts that includes Lauren's No Shine Tinted Moisturizer, a Better Than Spice Lip Pencil, Lauren's Suck Ups Oil Blotting Paper, and a  Quilted Cosmetic Carrying Case as free .