Topsy Turvy Tomato Tree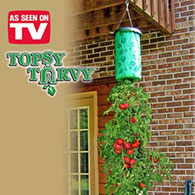 With the Topsy Turvy, you can grow tomatoes bigger and faster than ever before. It is the easy to use and unique upside down tomato tree.
The Topsy Turvy is the perfect solution to your garden. It is easy to grow and maintain and you can mix and match your favorite tomatoes. It provides higher yields with less work. Use it to grow your own organic tomatoes.
 It features a 6′ powder-coated steel grow-stand and an over-sized 3 port grow-bag made of greenhouse grade materials. The hanging system is made of stainless steel and you can grow 3 different plants in the same planter.
The Topsy Turvy is over 6′ tall, but uses only 4 square feet of space. Use it to grow over 200 tomatoes on  your balcony, deck or patio. It can also be used to grow fresh herbs, zucchini, eggplants and more.
Get the Flash Player to see this player.
When you can purchase the Topsy Turvy Tomato Tree for $19.99 plus shipping and handling you'll receive a second free. Just pay additional shipping.
Plus you'll also receive a free bonus Tomato Cutter and a free bonus Recipe Guide.