Super Wave Oven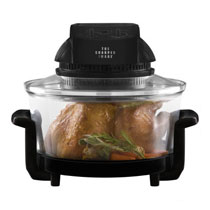 The Sharper Image Super Wave Oven is the amazing piece of cookware that cooks your favorite foods in less time and provides healthier meals.
It does it all, including roasting, baking, broiling, air frying, grilling, boiling and steaming. You'll be able to cook up to 3 times faster than a ordinary  oven, while using as much as 80% less energy.
The Super Wave Oven contains 1300 watts of cooking power and features a special Tri-Cooking Technology that combines halogen, convection and infrared cooking.
First, the halogen heat sears the food and seals in  natural juices. Afterwards, infrared light waves will cook your food from the inside out. Last, the convection fan rotates the air inside, helping cook the food faster.
Using the Super Wave Oven, you don't to add added fats or oils to cook your meals for healthier meals. You can also cook multiple foods at the same time to save time.
Plus it can even cook frozen foods that are taken straight out of the freezer. There's no defrosting or preheating required. You just have to set the timer and temperature.
The compact design of the Sharper Image Super Wave Oven makes it easy to store and move around. Plus clean up is simple and quick too since it is self cleaning.
Get the Flash Player to see this player.
Each Sharper Image Super Wave Oven comes with a 10 QT Glass Basin, Glass Lid, Safety Handles, 2 Cooking Racks, Handy Tongs, Stainless Steel Extender Ring and a Recipe Book.
You can order the Super Wave Oven for 3 payments of $39.95 plus shipping and handling or a single payment of $119.85 plus shipping.
Plus as a bonus, you can also get a free Sharper Image Stainless Blender and a free Ultimate Knife Set with your order. You just have to pay the additional shipping and processing for each.