Smartware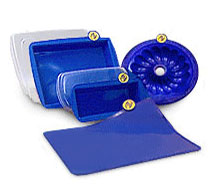 Smartware is the incredible flexible cookware. It is created using a unique non-stick material made from Temperflex.
Temperflex is not plastic, but stores like it. It is not rubber, but bends like it. It isn't steel but is durable like it.
With Smartware you can use the same piece for baking and storing in the fridge. Smartware can go from 60°F below zero to almost 500°F without any warping, melting or flaking.
You can store it in the fridge or freezer, use it in the oven or microwave and it is always dishwasher safe.
But the real joy is in how it cooks since the material will transfer heat more efficiently than conventional pans.
By transferring heat evenly, everything you cook will have better results every time.  Also it allows you to use less fat and oil when you cook, lowering calories and increasing flavor.
The Smartware 16 piece set includes:
9″ x 11″ All Purpose Roasting/baking Pan
Loaf pan
Savarin Bundt Pan
Cookie Sheet Mat
Trivet Serving Tray
Cookbook
2 Storage Lids
8 Holiday Stencils
  Get the Flash Player to see this player.
You can order the 16 piece set of Smartware for just $39.95 plus shipping and handling. But there's more.
Right now there is also a buy 1 get 1 free offer where you can get a second 16 piece set free if you pay the additional shipping and handling.
Update: This offer has expired