Roberto Rossi Knife Set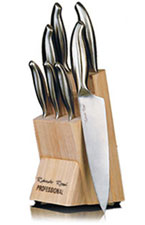 Enjoy a 5-piece stainless steel professional chef's knife set from Roberto Rossi, the #1 rated gourmet cookware company in the United States.
Each knife is forged to give you the perfect weight, balance and handling. These superior quality knives are entirely crafted by hand.
Roberto Rossi knives are made using the finest carbon stainless steel to give them strength, durability and a long lasting cutting edge.
They are stone ground, making them tapered from the back of the blade right to the cutting edge. This gives the knife an exceptional degree of sharpness.
Use these set of Roberto Rossi knives on meat, fish, fruit and vegetables, and for all cutting, slicing and chopping needs.
The Roberto Rossi 5-Piece Stainless Steel Professional Chef's Knife Set includes:
10″ Carving Knife
9″ Bread Knife
8″ Chef's Knife
5″ Utility Knife
3.5″ Paring Knife
This set of great knifes are valued at $189 but right now you order the entire set of Roberto Rossi knives for only $19.99 plus shipping and handling.
But that's not all. You'll also receive a free MagicChopper, a $24.99 value, with your order.
Update: This offer has expired