Fushigi Ball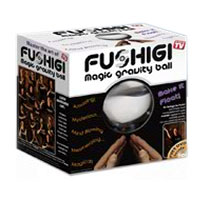 The Fushigi Magic Gravity Ball is the new sensation that lets you mesmerize the mind and confuse the senses.
It is a form of contact juggling where you make the magic ball appear to move on its own or even appear to floating in thin air.
Not only is the Fushigi an amazing to show off, it is also an incredible and therapeutic form of relaxation.
Anyone can learn to use the Fushigi no matter their age. It is simple and you don't have to been a magician or a professional either.
With the include instructions and tutorial DVD, you can learn how to master the Fushigi, mesmerize the mind, confuse the senses, and blow away your friends with cool tricks  in no time.
Get the Flash Player to see this player.
With this current offer you can order the Fushigi Magic Gravity Ball for just $19.99 plus the cost of shipping and handling.
A free Instructional DVD that is valued at $40 is included inside. It shows you the basics of using the Fushigi Ball and has step by step instructions on how to perform the cool tricks.