Riddex Power Plus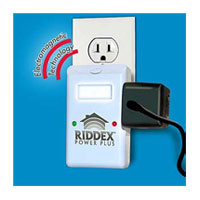 Riddex Power Plus is the fast and easy way to get rid of roaches, bugs, mice, rats and other vermin without the use of chemicals.
Just plug the Riddex Power Plus into any electrical outlet and it will send out a digital pulse that repels pests away.
A single unit covers an entire level of a typical home. It works behind walls, under floors and above ceilings where pests hide, live and reproduce.
The patented Digital Pulse Technology in Riddex Power Plus is powered by a Freescale Microprocessor. It helps create an irritating environment for pests inside your walls and drives them away.
The Riddex Power Plus unit has a built in nightlight and LED indicator. Plus this new and improved version also features an additional power outlet.
Now you don't need use harmful chemicals to keep you house pest free. Riddex is completely safe for children and household pets that includes dogs, cats, and fishes.
Get the Flash Player to see this player.
Riddex Power Plus retails for $29.95 plus shipping and handling but right now there is a special buy 1 get 1 free offer. You'll get 2 Riddex Power Plus for the price of 1. Just pay the additional shipping on the second unit.