Heat Surge Mini Glo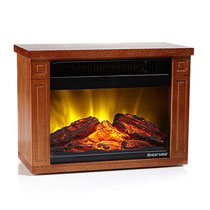 The Heat Surge Mini Glo is the world's smallest Heat Surge fireplace. It is an electric heater with Fireless Flame technology that gives you the peaceful flicker and appearance of a fireplace.
However there are no real flames so that means no fumes, smells, ashes or fire hazards. In addition the unit stays cools, is safe to touch, and has none of the safety hazards of a fireplace.
While the Heat Surge Mini Glo is sleek and compact at only 9.4″ x 13.25″ x 6.5″, it is extremely effective at heating and is also energy efficient.
It can produce 3,685 BTU's of power and heat any room from floor to ceiling while using just 1,2000 watts . The standard setting only uses around 14 cents of electricity per hour and can help you cut down on your heating bills.
The Heat Surge Mini Glo can be used to heat any room in your home whether it is the living room, basement, bedroom or anywhere else. The small and compact design allows you to easily move from room to room.
Just plug it into any standard wall outlet and the heat turbine will silently and quickly heat up the room. The Heat Surge Mini Glo can be safely placed and used on top on any surface.
Get the Flash Player to see this player.
Not only does this portable electric fireplace works great but it also works great too. The mantels are hand-crafted from real wood by the Amish and has a hand-rubbed stain and heat resistant varnish. It will look great as a showpiece in any room.
Order the Heat Surge Mini Glo for just $149. This is $100 off the original price of $249. Plus you'll also get free shipping and handling with your order.