Cricut Expression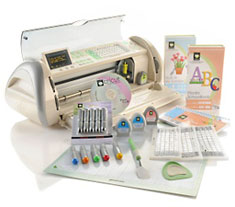 With the Cricut Expression Cutting Machine from ProvoCraft, you can create beautiful scrapbooks, greeting cards, calendars, labels, party favors and a whoel lot more.
Let your imagination soar with the world's most popular personal cutting system. It is fast, fun and easy to use.
It quickly and easily cuts vinyl, paper, card stock, plastic, chip board, fabric and more. It can even etch glass.
Use the Cricut to create cards, posters, wall lettering, decals, embellishments, signs, labels, scrapbooks and almost anything you can imagine. The possibilities are endless.
The Cricut Expression is a perfect fit for educators, home decorators, event planners, office workers, small business owners, parents, students, crafters, or anyone wishing to personalize their projects or express themselves.
Get the Flash Player to see this player.
The complete system includes the Cricut Expression Cutting Machine, 1 Plantin SchoolBook font cartridge, 1 Potpourri Basket image cartridge, 1 12″ x 12″ Tacky Mat, a Spatula, 1 Scraper Tool, 1 How-to DVD, 2 Project DVDs, 2 sheets of Black Designer Vinyl, 2 sheets of Transfer Tape, 1 bottle of glass Etching Solution and 1 Etching Solution Application Brush.
The Cricut retails for 6 easy payments of $57 plus shipping and handling. But right now you can try it first in your home 30 days by paying only $33  plus the cost of shipping and handling.
Updat: This offer has expired