Smoke Away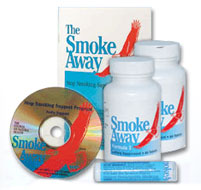 Smoke Away is the all natural stop smoking program that can help you kick the habit and become smoke free.
The program designed to help smokers quit smoking and reduce cravings during the period following.
Unlike expensive patches that fill the body with nicotine, Smoke Away uses all natural herbs and other ingredients to fight off the cravings.
Smoke Away is physician developed and have been clinically tested for its effectiveness. The researchers have carefully make the herbal formula to reduce the unpleasantness caused by nicotine as much as possible.
With Smoke Away you do not have to take any drugs and there are no chemicals used. Also it doesn't cause weight gain and is much less expensive than many other soltuions.
The Smoke Away Stop Smoking Program is a 5 part kit. It includes; Formula 1 Supplements, Formula 2 Supplements, Homeopathic Pellets a printed manual and a CD.
You can order this Smoke Away premium package for just $49.95 plus the cost of shipping and handling.