Smoke Assist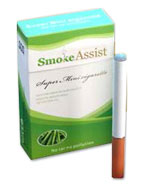 Smoke Assist electronic cigarettes is a new and exciting alternative to regular tobacco cigarettes.
They will satisfy your oral fixation with realistic tobacco flavor, look and feel but without any of the harmful chemicals or toxins of ordinary cigarettes.
Also with Smoke Assist, there are no longer any more smoke smell on your clothes, in your home, or at work.
The Smoke Assist E-Cigarette doesn't contain tobacco, tar, nicotine or any of the 4,000 other harmful chemicals and carcinogens found in regular cigarettes.
Smoke Assist emits water vapor rather then second hand smoke. Water vapor is completely safe and isn't harmful when inhaled by others like second hand smoke is.
Get the Flash Player to see this player.
The Smoke Assist comes with the Smoke Assist  Stainless steel shell with Micro-computer control circuit, a USB Rechargeable built-in Lithium Battery with USB charger, and 4 Atomized Filterette Cartridges.
You can order Smoke Assist for $89.95 plus the cost of shipping and handling. That is only $3.49 per cartridge and a huge saving over the cost of regular tobacco cigarettes. Each cartridge will provide you with the equivalent of a pack and a half of traditional smokes.